Antenna Installation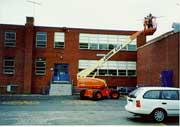 Miles WF1F, on the Logan Lift with a few antenna sections. The Life made installaton very easy.
Hi Everyone:
I would like to thank all of the people who helped out with the Hellenic American School schedule in Lowell.

The Schedule ran from 9:11 - 9:20 am Monday may 19, 1997.
Charlie Precourt the shuttle pilot was on frequency and on schedule. Dave larsen in California made the initial contact on 2-meters and relayed by telephone to the school.
Dave, Miles and Charlie chatted by phone patch counting down the time until Mir came in range of the School in Lowell.

Signals in CA were good, however signals in Lowell were bad. It was a combination of several factors Tropo Ducting Polarity And Poor Mir orientation.

Other Radio stations on the east coast monitoring the pass reported similar problems.
I do not have an exact count of questions answered, but it was between 3-5.
When Charlie realized signals were failing, he began to announce the children's names and give the answers (Charlie had a list of questions in his pocket before launch).

During the 10 minute pass, signals were good for 3 minutes and poor the rest of the pass.

We are planning on editing the tapes and posting the data in wave files later this month.

Station setup
Antenna gain 12 bBic +
Coax loss, less than 2 db
RF power 350 watts
ERP over 2400 watts.
Group Shot - The Mirex Install team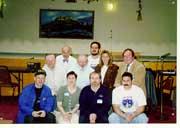 Back Row left to right:
William Davis K1WD, Mike Catalanotti N1YHW
Middle row:
Bob Wallace W1HH, Mike K1LJN
Dawn Catalanotti, Jerry Muller K0TV
Front Row
Gary KD1TR, MaryBeth N1FER
Miles WF1F, Peter KD1IV